CASE PACKER MACHINE FOR JUGS
The TT-1200T is an intermittent motion top load case packer. It can reach speeds up to 20 corrugated cases per minute, and it is designed and built for the casing of jugs and bottles. With a completely automated sequence of operations, TT 1200T provides automation of case erection, case loading, and case sealing processes. TT-1200 can handle any jug type present on the market: gallon jugs, wide mouth rectangular bottles, handle jugs, f-style jugs, slant handle jugs… This piece of packaging equipment allows for quick and efficient secondary packaging of liquid containers filled with consumable liquids like milk, juice, or wine, or industrial and chemical liquids like various oils, detergents, acids, fuels, fertilizers, etc.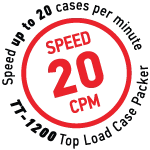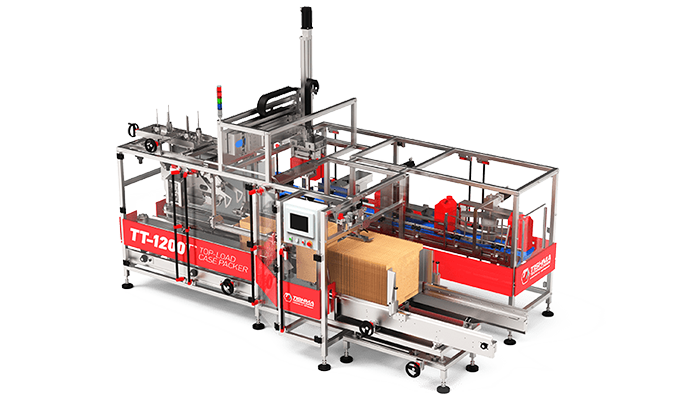 PRODUCT CASE PACKING PROCESS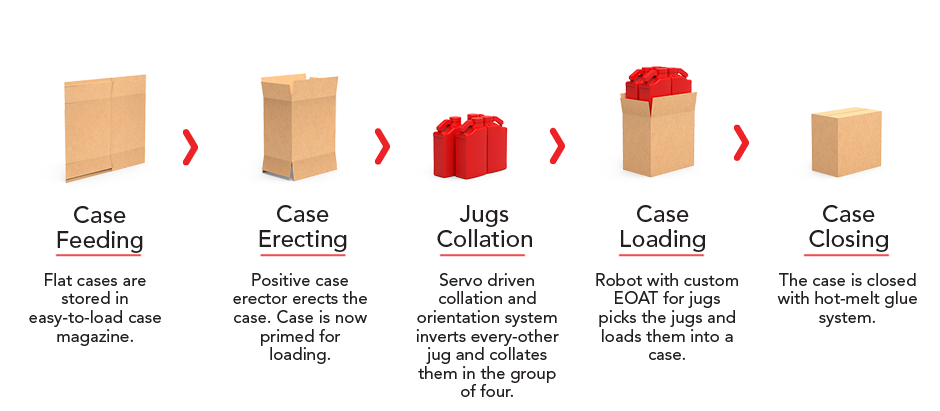 PRODUCT CASE PACKING VIDEO

TECHNICAL
SPECIFICATION
| | |
| --- | --- |
| TYPE | Top Load Case Packer |
| SPEED | Up to 20 CPM |
| MIN. CASE SIZE | 6″ x 4″ x 3″ |
| MAX. CASE SIZE | 18″ x 12″ x 12″ |
| CASE LOADING | Pick and Place System |
| CARTON CLOSING | Hot-Melt Glue |
| DIMENSIONS | Width: 100″ Length: 168″ Height: 79″ |
| CONTROLS | Allen Bradley PLC/Drive |
TT-1200T BOTTLE TOP-LOAD CASE PACKER
The TT-1200 is a piece of case packing machinery that supports multiple jug and bottle
shapes and sizes and features quick and easy servo-assisted change-over. Low case
magazine heights allow for easy and fast loading. Jug orientation system inverts
every-other jug to minimize space usage in the box. Jugs are collated in the group of
four and then loaded into an RSC or HSC cardboard case with the help of robotic infeed
with custom EOAT for precise bottle pick and place. The corrugated case is sealed with a hot-melt glue closing system. Stainless steel construction and simple open design allow
for easy wash-down of all exposed surfaces.
DIMENSIONS & FLOOR PLAN
TT-1200T features compact overall footprint so you can rest assured it will fit your floor space.
Reliable and portable with simple operation and user friendly interface, TT-1200T will be up and running in no time.
Built from welded tubular stainless steel with hinged cover panels and safety electrical interlocks, TT-1200T is powerful and efficient case packer that meets the highest standards with state-of-the-art simplicity.