VERTICAL CARTONER FOR COCONUT CREAM POUCHES
The TT-50 vertical cartoner for coconut cream pouches is an intermittent motion Top Load Cartoner that can reach speeds up to 100 cartons per minute. Designed and built for cartoning of coconut cream pouches, this model of TT-50 is a perfect piece of packaging automation equipment for secondary packaging of heavier, liquid-filled pouches that require a bag-in-a-box packaging format.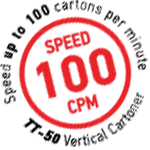 PRODUCT CARTONING PROCESS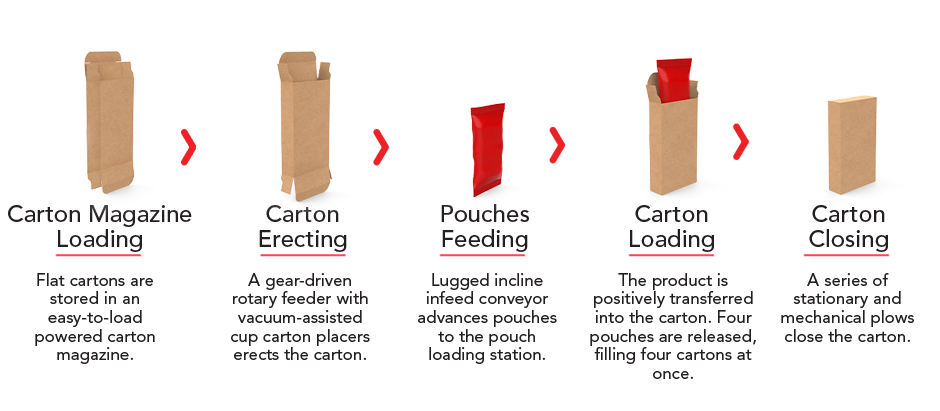 TECHNICAL
SPECIFICATION
| | |
| --- | --- |
| TYPE | Top Load Vertical Cartoner |
| MODE | Intermittent |
| SPEED | Up to 100 CPM. Up to 100 cartons per minute |
| CARTON CLOSING | Straight or reverse tuck and/or hot melt glue |
| CARTON MAGAZINE | 48″ powered carton magazine |
| PRODUCT INFEED | Lugged Incline Infeed Conveyor |
| CARTON FILLING | Filling System That Fills 4 Cartons at the Same Time |
| CASE CLOSING | Tuck Carton Closing System |
| CONTROLS | Allen Bradley PLC/Drive |
TT-50 TOP LOAD CARTONER OPERATION OVERVIEW
Flat Cartons are stored in the 48″ powered carton magazine with tubular steel frame, twin chain feed with shaft mounted pressure plate, and 1/8 H.P. drive motor with air clutch. Upon the product's detection, a high-speed gear-driven rotary carton feeder with vacuum cup carton placers erects the carton. Filled and sealed pouches are received from the 4-lane pouch filling system and advanced to the lugged incline conveyor, which moves the pouches to the product loading station. Four pouches are released from the filling station into the cartons, filling four cartons at the same time. The carton flaps are closed using a series of stationary and mechanical plows, and then the carton is discharged.
DIMENSIONS & FLOOR PLAN
TT-50 packaging machine features an overall compact footprint, so you can rest assured it will fit your floor space. Reliable and portable with simple operation and a user-friendly interface, TT-50 will be up and running in no time. TT-50 is a powerful and efficient carton packaging machine that meets the highest standards with state-of-the-art simplicity, built from welded tubular stainless steel with hinged cover panels and safety electrical interlocks.