CARTONER MACHINE FOR CHEWING GUMS
The TT-100 cartoner machine for chewing gums is a continuous motion Vertical Cartoner that can reach speeds up to 1000 cartons per minute. It is designed and built for the packaging of chewing gums in small cartons. It is perfect for the primary or secondary packaging of free-flowing products like gums, candy, wrapped candy, candy blisters, small candy pouches, and sachets.
This packaging equipment is available with different coding and labeling solutions, patented volumetric cup fillers, or a computer scale interface. Integration with a Case Packer or a Tray Packer is also an option.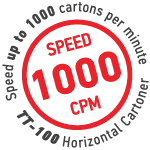 PRODUCT CARTONING PROCESS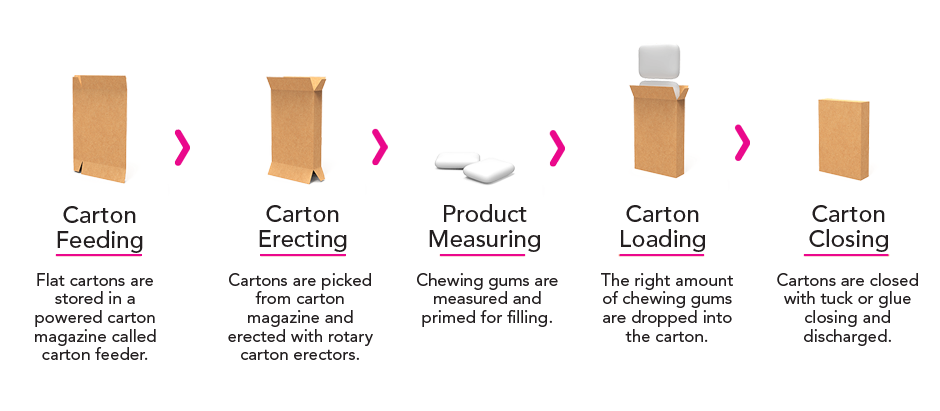 PRODUCT CARTONING VIDEO

TECHNICAL
SPECIFICATION
| | |
| --- | --- |
| TYPE | Top Load Cartoner |
| MODE | Continuous Motion |
| CARTON POCKET CENTER | 1.875, 2.5, 3.75, and 5.0 inches. |
| SPEED | Variable to 1,000 CPM, depending upon application. |
| CARTON FEED | 48+'' powered carton magazine with rotary erector; dual micro-pump vacuum system |
| CARTON CLOSING | Straight or reverse tuck, hot melt glue, tooling for special carton styles |
| CARTON FILLING | Patented volumetric cup fillers or computer scale interface |
| FRAME | Welded tubular stainless steel; hinged Lexan cover panels with stainless steel frames and safety electrical interlocks |
| DRIVE | Servo driven with line shaft |
| CONTROLS | Allen Bradley PLC or to customer spec; Allen Bradley components, alphanumeric self-diagnostics. |
TT-100 VERTICAL CARTONER
The TT-100 cartoner machine for chewing gums Top-Load Cartoner supports multiple carton sizes and features a quick and easy servo-assisted change-over. The flat cartons are stored in a 48+'' powered carton magazine with a rotary erector and dual micro-pump vacuum system that erects the carton and places it into the carton pocket. Chewing gums and measured and dosed slat counting system for precise product/piece count/fill. When filled, the carton goes through the sealing station, where it is sealed. The inspection and rejection station detects the cartons with open flaps and rejects all the faulty cartons. Product count verification system that allows only the good product to be discharged from the machine.
The TT-100 features stainless steel construction and a simple open design, which allow for easy washdown of all exposed surfaces.