HORIZONTAL & VERTICAL CARTONERS
Tishma Technologies operator-friendly top load and side load automatic cartoners can accommodate the most challenging packaging and cartoning applications. Downtime is no longer a concern; our cartoning machinery is built for 24/7 operation. Our packaging experience and modular design approach provide proven solutions for most packaging and cartoning applications. We are familiar with virtually every carton style on the market, which allows us to design and build reliable cartoning equipment which provides flexibility, quick changeover, high-speed (up to 1,000 CPM), and superior product handling.
---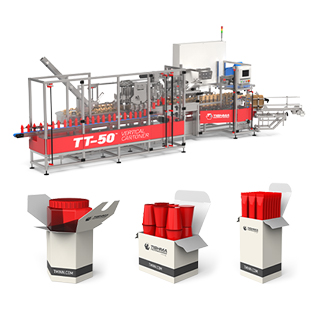 ---
AUTOMATIC OR SEMI-AUTOMATIC CARTONER FOR BOTTLES, JARS, BAGS, SEALED CUPS OR VIALS
The TT-50 Dosing Droppers is a continuous motion top load cartoner that can reach speeds up to 140 cartons per minute. Designed and built for manual cartoning of dosing droppers and bottles, it is perfect for packaging bottles containing cannabis and CBD oil or tinctures, eye drops, ear drops, nose drops, and similar pharmaceutical products.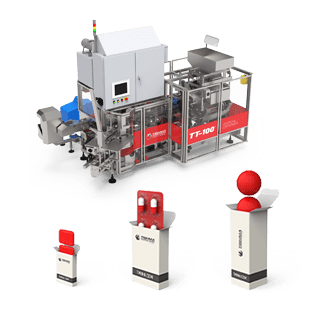 ---
AUTOMATIC CONTINUOUS MOTION CARTONER FOR FREE-FLOWING PRODUCTS: GUMS, GOLF BALLS, STICK POUCHES AND SIMILAR PRODUCTS
The TT-100 cartoner machine for chewing gums is a continuous motion Vertical Cartoner that can reach speeds up to 1000 cartons per minute. It is designed and built to pack chewing gum in small cartons. It is perfect for the primary or secondary packaging of free-flowing products like gums, candy, wrapped candy, candy blisters, small candy pouches, and sachets.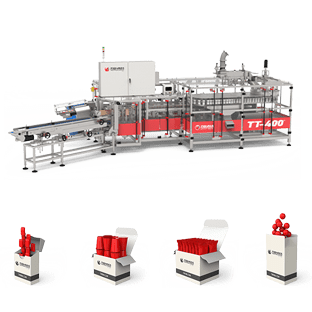 ---
AUTOMATIC CONTINUOUS MOTION CARTONER FOR FREE-FLOWING PRODUCTS: CANDY, POUCHES, RICE, PASTA, POWDERS AND SIMILAR PRODUCTS
The TT-400 is a continuous motion vertical carton filling machine that can reach speeds of up to 750 CPM. It is available with MemoryTrack for computer scale interface or with Patented UltraTrack high-speed volumetric cup filler that provides no-carton/no-product, no-product/no-carton functionality.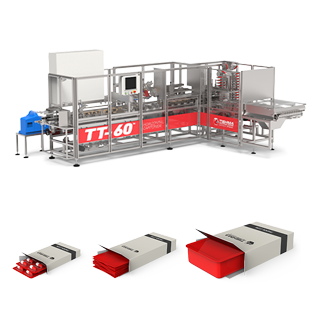 ---
AUTOMATIC INTERMITTENT MOTION CARTONER FOR COMPLEX APPLICATIONS: STICK-PACKS, BLISTER PACKS AND CARDED ITEMS
TT-60 is a compact side-load cartoner that provides cartoning solution for complex cartoning applications. This automatic cartoning machine is available with servo-controlled collating devices that can collate the products in various patterns and load them into a carton or a display pack. Applications include blister packs, pouches, carded items, and numerous others.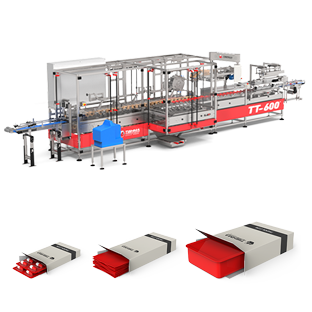 ---
AUTOMATIC CONTINUOUS MOTION CARTONER FOR: BAG-IN-A-BOX, POUCHES, PASTA, BOTTLES AND SIMILAR PRODUCTS.
TT-600 side-load cartoning machine represents the new standard of excellence in horizontal cartoning automation. It contains Smart Flighter, Sequential Transfer product handling devices, and it offers unique benefits accompanied by system design flexibility. Patented design innovations are best reflected in the Flexo-Tray® models coupled with our Smart Loader.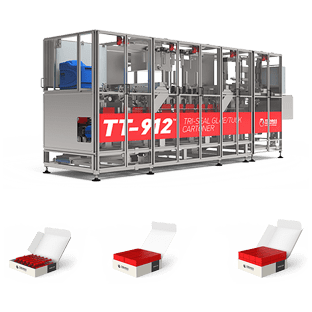 ---
AUTOMATIC TRI-SEAL AND FLAT-BLANK VERTICAL CARTONER FOR: SYRINGES, VIALS, CANDY BARS, CARTONS AND SIMILAR PRODUCTS.
The TT-912 top load cartoning machine represents a new approach to automated flat blank cartoning. The TT-912 series offers continuous motion, totally integrated systems or modules featuring positive carton control, and on-demand computer scale interfacing.
WHY CHOOSE TISHMA TECHNOLOGIES'
HIGH-SPEED VERTICAL CARTONERS?

SPEEDS UP TO 1000 CPM

QUICK CHANGEOVER

COMPACT FOOTPRINT

USER FRIENDLY HMI

AVAILABLE IN WASHDOWN DESIGN
Our custom-made horizontal and vertical carton packing machines are available with different servo-controlled product handling and collating devices for various pack patterns and with different filling and dosing systems that measure out a product by volume, mass or count.
This TT-50 model is a continuous motion, semi-automatic vertical packaging machine for top-load cartoning of product bottles in folding cartons.
A wide assortment of options includes bottle feeders, printers, leaflet placers, visual verification systems, and servo-controlled product handling devices.
FEATURED CARTONING SOLUTIONS