CARTONER MACHINE FOR PHARMA BOTTLES
The TT-600 Cartoner Machine for Pharma Bottles is a continuous motion horizontal cartoner that can reach speeds up to 500 cartons per minute. It is designed and built to package pharma bottles into fifth-panel cartons and then bundle them in groups of three or six. It is perfect for the secondary packaging of bottles containing pills, tablets, liquid, or powder. This packaging equipment is available with different coding, labeling, and inserting solutions like modular coupon placers, leaflet inserters, code engravers, or printers. Flexo-Tray® models, coupled with Smart Loader, Smart Flighter, and Sequential Transfer product handling devices, offer unique benefits and system design flexibility. Integration with the robotic bundler is also an option.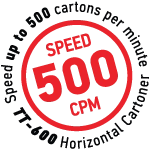 PRODUCT CARTONING PROCESS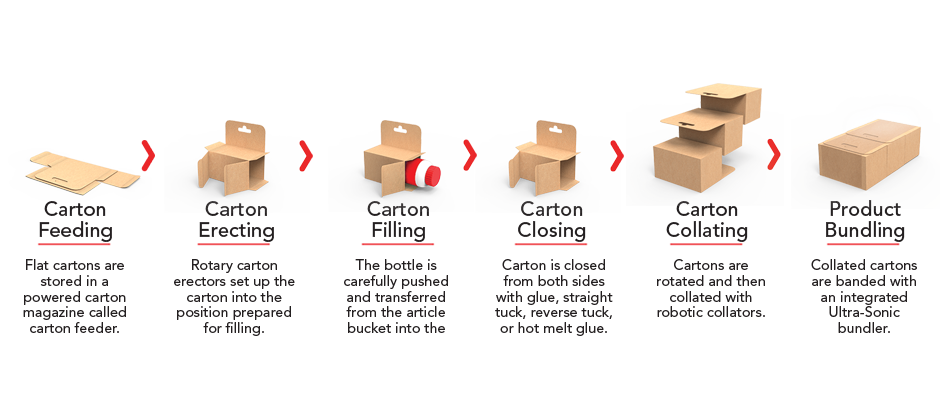 TECHNICAL
SPECIFICATION
| | |
| --- | --- |
| TYPE | Side Load Cartoner |
| MODE | Continuous Motion |
| SPEED | Variable to 500 CPM, upon model and application |
| CARTONS | 1.875″ to 16″ depending upon model |
| CARTON FEED | Powered carton magazine and rotary carton placer |
| PRODUCT LOADING | Article buckets articulate in to carton score lines |
| SENSING SYSTEMS | No product/ no carton and no carton/ no load (with automatic product discharge) |
| CARTON CLOSING | Straight or reverse tuck, or hot melt glue |
| FRAME | Welded tubular stainless steel of open, sanitary design |
| DRIVE | Servo driven with line shaft |
| CONTROLS | Allen Bradley PLC and components |
TT-600 HORIZONTAL CARTONER
The TT-600 side-load cartoner supports multiple carton sizes and features quick and easy servo-assisted change-over. The machine receives pharmaceutical bottles into timing screw infeed. The screw lays down the bottles into the article buckets of the TT-600 Cartoner Machine for Pharma Bottles Horizontal Cartoner. Upon detection of the bottle, a carton is erected, and the bottle is positively pushed into the carton.
Integrated sensing systems provide no product/ no carton and no carton/ no-load functionality, thus eliminating empty cartons or damaged product. When filled, the carton is sealed on the bottom and top. The carton is printed with a unique code, the code is verified, and the carton is forwarded to a product orientation station which flips the cartons preparing them for collation. Raptor-R, robotic bundling station, collates the cartons into the groups of three or six, and then bundles them together with Ultra-Sonic Technology. The TT-600 features stainless steel construction and simple open design, which allow for easy washdown of all exposed surfaces.
DIMENSIONS & FLOOR PLAN
TT-600 features an overall compact footprint, so you can rest assured it will fit your floor space. TT-600 is available with automatic product transfer, servo-driven collating devices, extended article bucket conveyors, and product confines. TT-600 is a powerful and efficient cartoner that meets the highest standards with state-of-the-art simplicity, built from welded tubular stainless steel with hinged cover panels and safety electrical interlocks.