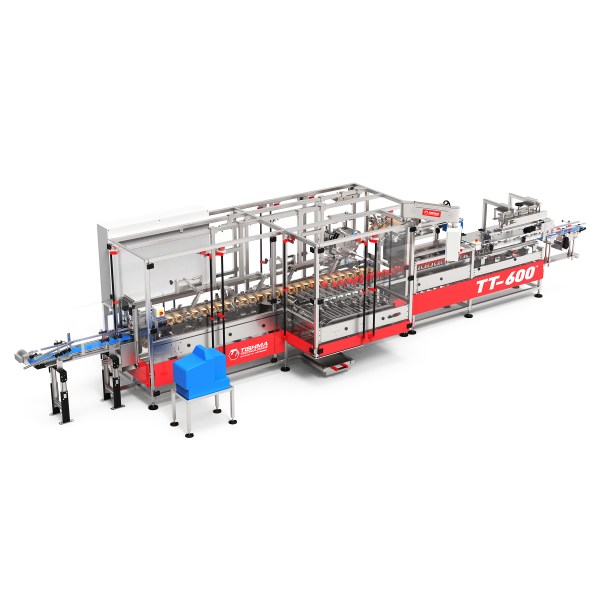 TT-600 Horizontal Cartoner Machine
Flexibility Above All
The TT-600 side load cartoner can reach speeds up to 500 CPM, and it is perfect for continuous motion packaging applications. It is available with automatic product transfer, servo-driven collating devices, extended article bucket conveyors, and product confines.
Modular coupon placers, code engravers, or printers make this packaging machine a good solution for labeling as well. Flexo-Tray® models coupled with Smart Loader, Smart Flighter, and Sequential Transfer product handling devices, offer unique benefits and system design flexibility.
Download Brochure
Bringing Back Efficiency in Horizontal Cartoning
RECEIVING

The buckets open to their widest dimension for efficient transfer, gentle product handling and pack pattern flexibility.

ORIENTING

The buckets begin to contract, shaping and sizing bags, orienting and aligning pouches, slugs, or other products in single or multiple counts.

CONDITIONING

The buckets continue to contract. Articulation may be linear; a single motion, or phased; a series of opposing motions for products that require substantial conditioning.

OPTIMIZING

Finally, the buckets adjust to the optimum width for efficient and gentle product loading. From product transfer to carton loading, the sequence is smooth, continuous, and predictable.

FLEXO-TRAY
BRINGING BACK EFFICIENCY IN HORIZONTAL CARTONING
TT-600 side-load cartoning machine represents the new standard of excellence in horizontal cartoning automation. Patented design innovations are best reflected in the Flexo-Tray® models coupled with our Smart Loader. It contains Smart Flighter, Sequential Transfer product handling devices, and it offers unique benefits accompanied by system design flexibility.
---
TT-600 CARTON STYLES & PRODUCT APPLICATION
Bag-in-a-box  ●  Long goods  ●  Pouches  ●  Stick-Packs  ●  Frozen Food

---
TECHNICAL SPECIFICATIONS
| | |
| --- | --- |
| TYPE | Side Load Cartoner |
| MODE | Continuous Motion |
| CANTERS | 1.875″ to 16″ depending upon model |
| SPEED | Variable to 500 CPM, upon model and application |
| CARTON FEED | Powered carton magazine and rotary carton placer |
| PRODUCT LOADING | Article buckets articulate in to carton score lines |
| SENSING SYSTEMS | No product/ no carton and no carton/ no load (with automatic product discharge) |
| CARTON CLOSING | Straight or reverse tuck, or hot melt glue |
| FRAME | Welded tubular stainless steel of open, sanitary design |
| DRIVE | Servo driven with line shaft |
| CONTROLS | Allen Bradley PLC and components |