FULL PACKAGING LINES FEATURED SOLUTIONS
Integrated packaging systems allow manufacturers to fully automate the entire packaging process, from primary packaging of their goods to shelf-ready packaging and shipping packaging. In other words, integrated systems provide complete packaging automation: from raw product to a pallet ready for shipping. If you invest in an integrated packaging solution from a single packaging machine manufacturer, you are forming a long-term partnership with one company that will be responsible for all repairs, spare parts, maintenance and servicing of the packaging line. This way, one reliable partner is taking care of all your packaging needs and making sure that all your equipment is compatible and working.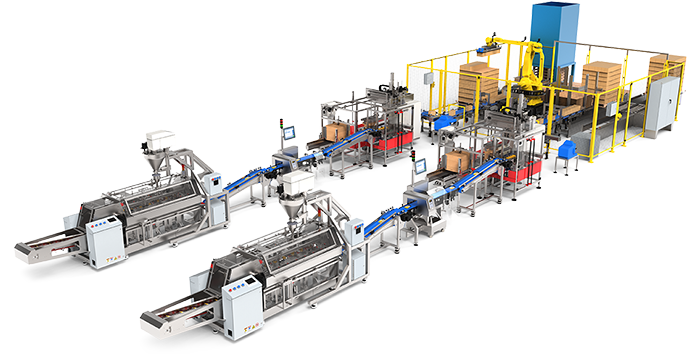 ---
Our flour packaging line consists of two Flex 7 Pre-Made Pouch Fill & Seal Machines, two TT-1200 Top-Load Case Packers, and one Tetristack Robotic Palletizer. After the pouches have been filled, sealed, and discharged, they are collated and loaded into a case by a robotic pick-and-place device with a custom EOAT designed to handle pouches. Sealed cases are arranged on the pallet in the desired pattern by the Fanuc robot.