CASE AND TRAY PACKER FOR CARTONS
The TT-1300 is an intermittent motion Case and Tray Packer that can reach speeds up to 30 trays per minute. It is designed and built for packaging of candy cartons onto display trays that are further packed into a case. This piece of packaging equipment is available with different coding and labeling options and it is perfect for shelf-ready packaging of any product that is primarily packed in a carton. This system can be integrated with Cartoner, Pouch Machine or Palletizer for full End-of-Line packaging solution.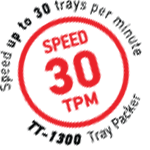 PRODUCT CASE PACKING PROCESS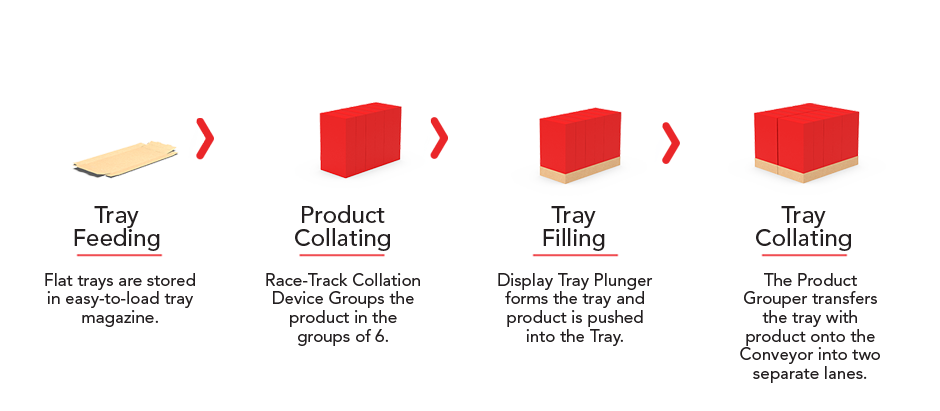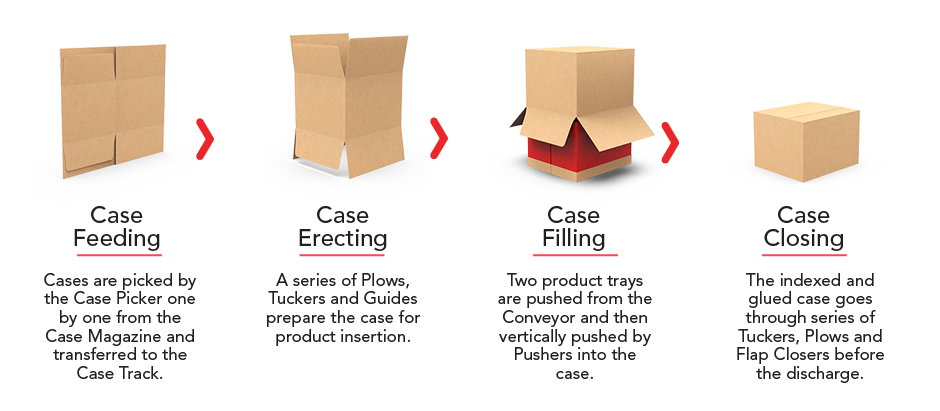 TECHNICAL
SPECIFICATION
| | |
| --- | --- |
| TYPE | Top Load Tray Packer + Bottom Load Case Packer |
| MODE | Intermittent Motion – Manual or fully Automated systems |
| SPEED | Variable to 30 TPM, depending upon application |
| CONTROLS | 7.5, or 15.0 inches |
| CASE FEED | Powered magazine with reciprocating feeder |
| CASE LOADING | Tray Collation System and Pusher |
| SENSING SYSTEMS | Open Flap Detection / Rejection Station |
| CASE AND TRAY CLOSING | Hot melt glue |
| FRAME | Welded tubular stainless steel of open, sanitary design |
| DRIVE | Servo driven with line shaft |
| CONTROLS | Allen Bradley PLC and components |
TT-1300 CASE & TRAY PACKER
The TT-1300 top-load tray packer combined with bottom-load case packer reaches speeds up to 30 TPM (trays per minute), and features quick and easy servo-assisted change-over. Product is introduced on the Infeed Conveyor and then it is transferred onto the Product Track. As product indexes along the Product Track display trays are picked from the Display Tray Magazine and then transferred to the Display Tray Plunger which forms the tray and transfers it to the Display Track. Product is pushed into the display tray and then the tray is indexed to the Product Grouper. The Product Grouper transfers the tray with product onto the Conveyor into two separate lanes. Cases are then picked by the Case Picker one by one from the Case Magazine and transferred to the Case Track where a series of Plows, Tuckers and Guides prepare the case for product insertion. Two product trays are pushed from the Conveyor and then vertically pushed by Pushers into the case. Then the case is indexed and glued and goes through another series of Tuckers, Plows and Flap Closers. The cases are then indexed onto a Discharge Ramp.
The TT-1300 features stainless steel construction and simple open design, which allow for easy washdown of all exposed surfaces.
DIMENSIONS & FLOOR PLAN
TT-1300 features compact overall footprint so you can rest assured it will fit your floor space.
TT-1300 is available with automatic product transfer, servo-driven collating devices, pre stacking case conveyors, tape and glue closing, and user-friendly HMI operator interface.
Built from welded tubular stainless steel with hinged cover panels and safety electrical interlocks, TT-1300 is powerful and efficient case & tray packer that meets the highest standards with state-of-the-art simplicity.