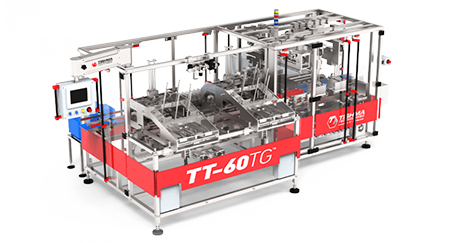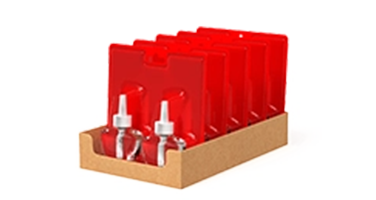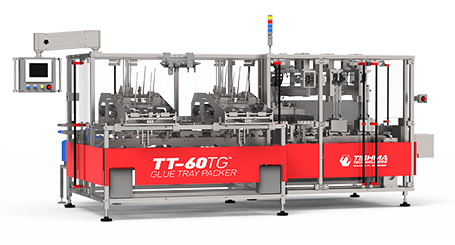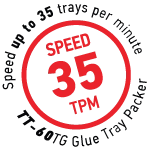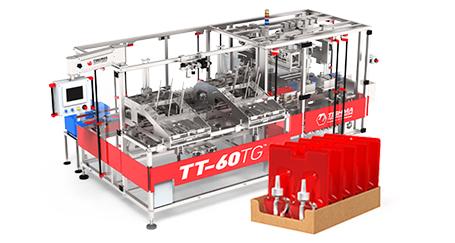 TT-60TG Tray Packer for Blisters
The TT-60TG high-speed tray packer is an intermittent motion high-speed blister tray packer that can reach speeds up to 35 trays per minute. Designed and built for blister tray packing, it is perfect for display packaging and shelf-ready packaging of air freshener plug-in blisters, soap blisters, and similar household products.
This automatic tray packer allows you the packaging automation process and blister tray loading. Shelf-ready packaging gives your product option to be featured on any market shelf for selling, or in display purposes.
HIGH-SPEED TRAY PACKER FOR BLISTERS
TRAY PACKER FOR DISPLAY AND SHELF-READY PACKAGING
The TT-60TG high-speed tray packer supports multiple trays and product sizes and features quick and easy servo-assisted changeover. This secondary tray packaging machine allows you to high-speed tray loading without sacrificing valuable floor space. Tray closing is achieved using a series of stationary and mechanical plows and a hot melt glue system. The sensor system detects the correct amount of blisters in a tray or rejects the tray. Open flap detection and rejection system is also included. Stainless steel construction and simple open design allow for easy washdown of all exposed surfaces.
TT-60TG features compact overall footprint so you can rest assured it will fit your floor space.
Reliable and portable with simple operation and user friendly interface, TT-60TG will be up and running in no time.
Built from welded tubular stainless steel with hinged cover panels and safety electrical interlocks, TT-60TG is powerful and efficient tray packer that meets the highest standards with state-of-the-art simplicity.