FLOUR PACKAGING LINE
FROM POUCH TO PALLET
Our flour packaging line consists of two Flex7 Pre-Made Pouch Fill & Seal Machines, two TT-1200 Top-Load Case Packers and one Tetristack Robotic Palletizer. The raw product (almond and other powdered flours) is measured with the help of a vibratory weigh scale and funneled into a pouch. After the pouch has been sealed and discharged, it is transferred to the case-packing section of the packaging line. Pouches are collated and loaded into a case by a robotic pick-and-place device with a custom EOAT designed to handle pouches. Sealed cases are transferred to a palletizing section, where a Fanuc robot arranges the cases on the pallet in the desired pattern. The pallet is released from a high capacity pallet magazine and dispenser. The robot picks the pallet pad from a separate magazine and assigns it to the pallet. Cases form a row on the conveyor, the robot picks them up and places them on a pallet. When the first layer of cases is formed, the robot inserts a tier sheet and repeats the process once pallet is full.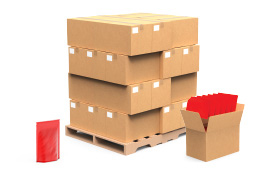 FLOUR IN A CARTON?
---
Not a Problem!
If you primarily pack your flour product in a lined carton, we also
have a solution for you! Instead of a pouch filling machine, we
can integrate our TT-400 vertical cartoner featuring auger filler for non-free-flowing powder products.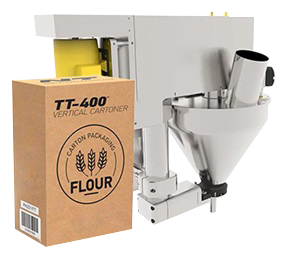 FLOUR LINE DIMENSIONS / MEASUREMENTS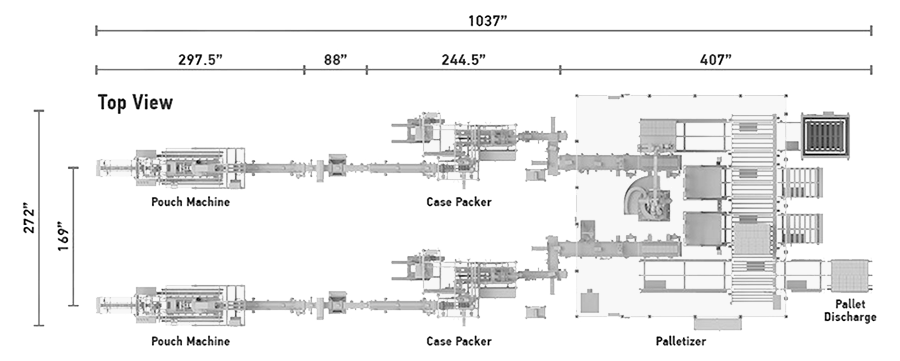 FLEX 7 – Pouch Fill and Seal Machine
| | |
| --- | --- |
| MACHINE PITCH | 10″ |
| SPEED | 40 pouches per minute |
| POUCH SIZE RANGE | Width: 4-16", Height:6-21", Gusset:0-6" |
| CONTROLS | A. B. Compact Logic, A.B. Panel View HMI |
| INPUT VOLTAGE | 240-480 V |
| INPUT AIR | 70-90 PSI |
| SPEED | Up To 50 Cases/Min |
TETRISTACK – Robotic Case Palletizer
| | |
| --- | --- |
| GENERAL OPTIONS | Slip/tier-sheet rack, Zero pressure product in-feed conveyor,Full line integration service |
| PRODUCT IN-FEED OPTIONS | Case erection, Case loading, Case sealing, Case closing, Labeling, Check weighing |
| END EFFECTOR OPTIONS | Pail tool, Clamp tool, Fork tool, Case/bag tool, Vacuum tool |
| MAX. CASE SIZE | 18″ x 12″ x 12″ |
| PALLET OPTIONS | Buffer conveyors, Stretch wrapper, Pallet Dispenser, Slip Sheet Dispenser |
FLOUR LINE PACKAGING VIDEOS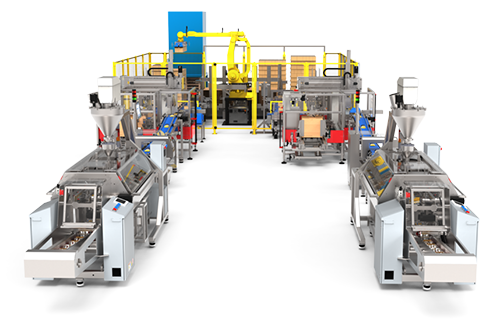 SINGLE SOURCE SUPPLY
---
For all packaging requirements
Our pouch machines, cartoners, bundlers, case packers, and robotic palletizers will allow our customers a single source supply for the full end of line packaging requirements. This way, all your packaging needs are being catered by one, reliable partner who will make sure that all your equipment is compatible. The journey of a product through a supply chain can be complicated, and Tishma Technologies is with you every step of the way.