CASE PACKING MACHINE FOR SEALED CUPS
The TT-1400 is an intermittent motion Top Load Modular Case Packer that can reach speeds up to 70 cases per minute, depending on the number of case erecting modules. Designed and built for case packing of sealed paper or plastic cups, it is also perfect for casing yogurt cups, cup noodles, and similar products.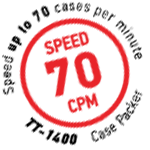 PRODUCT CASE PACKING PROCESS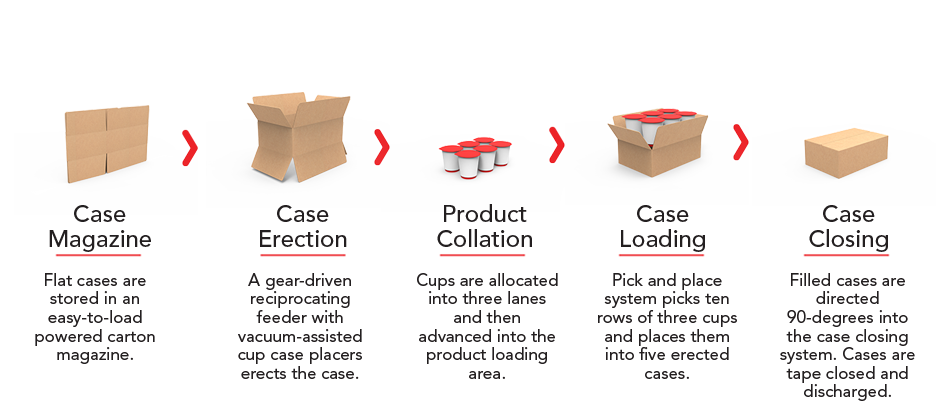 TECHNICAL
SPECIFICATION
| | |
| --- | --- |
| TYPE | Top Load Case Packer |
| SPEED | Up to 70 CPM |
| CASE LOADING | Pick-and-Place Gantry Tool |
| PRODUCT COLLATION | Lane Allocation System |
| CASE CLOSING | Glue Closing System |
| CASE TRANSPORT | Endless chain conveyor with one set of precision-milled Case Lugs |
| CONTROLS | Allen Bradley PLC/Drive |
TT-1400 MODULAR TOP LOAD CASE PACKER OPERATION
The TT-1400 Case Packer features adjustable speeds, overall compact footprint, and it can reach speeds up to 70 cases per minute. It consists of three autonomous modules: the case erecting module, the case loading module, and the case sealing module. The TT-1400E case erecting module features an easy-to-load case flat magazine and bottom flaps glue sealer. The TT-1400L case loading module features a single to three-lane automatic allotment infeed system, cup collation station, and gantry case loading tool. The TT-1400C case closing module features a glue case sealing system.
DIMENSIONS & FLOOR PLAN
TT-1400 features compact overall footprint so you can rest assured it will fit your floor space.
Reliable and portable with simple operation and user-friendly interface, TT-1400 will be up and running in no time.
Built from welded tubular stainless steel with hinged cover panels and safety electrical interlocks, TT-1400 is a powerful and efficient case packer that meets the highest standards with state-of-the-art simplicity.