VERTICAL CARTONER FOR WHISKEY BOTTLES
The TT-50 vertical cartoner for whiskey bottles is a continuous motion Top Load Cartoner that can reach speeds up to 140 cartons per minute. Designed and built for cartoning of whiskey bottles, it is perfect for secondary packaging of bottles containing spirits, wine, whiskey, or any liquor or beverage.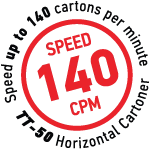 PRODUCT CARTONING PROCESS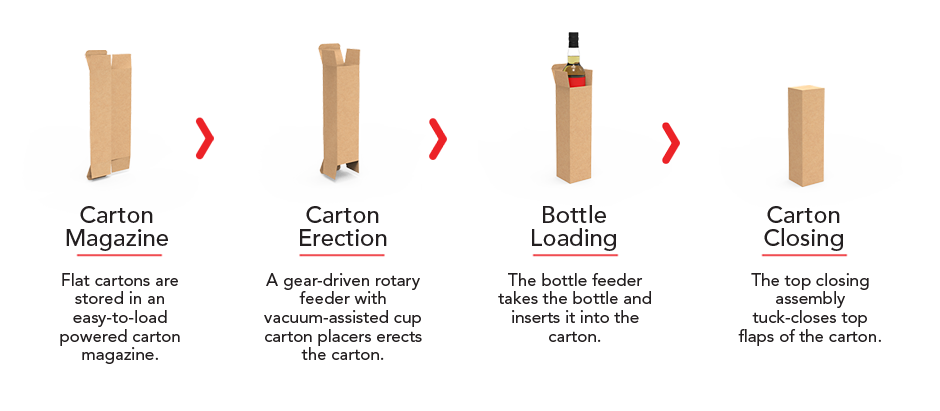 TECHNICAL
SPECIFICATION
| | |
| --- | --- |
| TYPE | Vertical Cartoner |
| SPEED | Up to 140 CPM |
| CARTON MAGAZINE | 36+" powered magazine with rotary carton feeder |
| PRODUCT INFEED | Morrison Timing Screw |
| CARTON FILLING | Product Grippers |
| CARTON CLOSING | Tuck Carton Closing |
| CONTROLS | Allen Bradley PLC/Drive |
TT-50 VERTICAL CARTONER – OPERATION OVERVIEW
The TT-50 Horizontal Cartoner features automatic bottle loading and tuck carton closing. The operator loads the cartons into the carton magazine. The rotary feeder picks the carton from the magazine and delivers it into the carton track. Carton travels down carton track and comes to the bottom closing assembly, where the plow system closes and glues the carton's bottom flaps. The bottle feeder takes the bottle from the Morrison Timing Screw and inserts it into the carton. The top closing assembly tuck-closes top flaps of the carton. The closed carton is transferred onto the discharge conveyor or transferred for further processing. The TT-50 features stainless steel construction and a simple open design, which allow for easy washdown of all exposed surfaces.
DIMENSIONS & FLOOR PLAN
TT-50 features an overall compact footprint, so you can rest assured it will fit your floor space.
TT-50 features washdown construction which allows for machine cleaning and maintenance according to all sanitary standards in the Pharmaceutical Industry.
TT-50 is a powerful and efficient cartoner that meets the highest standards with state-of-the-art simplicity, built from welded tubular stainless steel with hinged cover panels and safety electrical interlocks.