CASE PACKING MACHINE FOR
FROZEN MUSSELS VACUUM PACKS
The TT-1300S is an intermittent motion Side Load Case Packer that can reach speeds up to 12
cases per minute. Designed and built for case packing of cartons and non-cartoned
products, it is perfect for the casing of frozen vacuum packs of mussels, shrimp, frozen
fish, squid, oysters, crabs, clams and other seafood products. It is also suitable for
the secondary packaging of any vacuum-packed food product like meat and vegetables.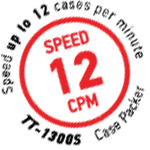 PRODUCT CARTONING PROCESS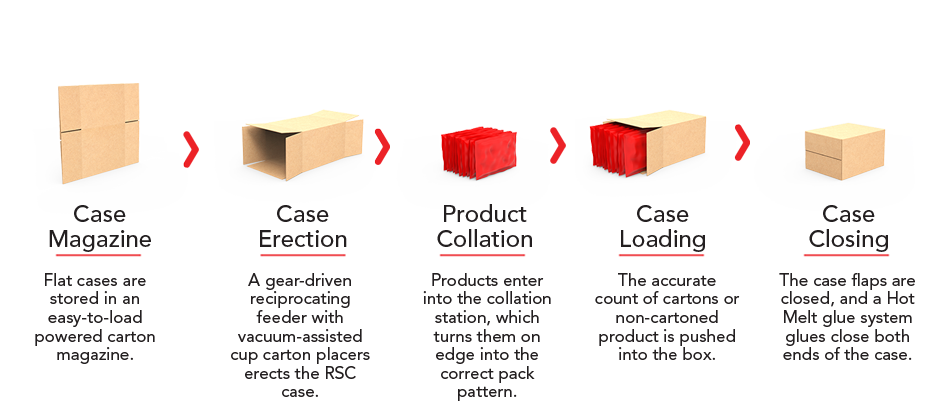 PRODUCT CASE PACKING VIDEO

TECHNICAL
SPECIFICATION
| | |
| --- | --- |
| TYPE | Top Load Case Packer |
| SPEED | Up to 12 CPM |
| MIN. CASE SIZE | 275 mm x 202 mm x 262 mm |
| MAX. CASE SIZE | 385 mm x 260 mm x 385 mm |
| PRODUCT COLLATION | Collation and Orientation Station |
| CASE CLOSING | Nordson Hot-melt Glue System |
| DIMENSIONS | Width: 95″ Length: 147″ Height: 83″ |
| CONTROLS | Allen Bradley PLC/Drive |
TT-1300S SIDE LOAD CASE PACKER
The TT-1300S Case Packer supports multiple cardboard boxes and product sizes and features quick and easy servo-assisted change-over. The TT-1300S Case Packer can pack cartoned or non-cartoned packs of Mussels into a corrugated RSC case. The Case Packer receives cartons on a conveyor from the Tishma TT-600S Horizontal Cartoning machine, lying flat with the long dimension leading. Alternatively, non-cartoned packs of Mussels can be hand loaded onto the infeed conveyor of the Case Packer. Cartons or non-cartoned products enter into the collation station, which turns them on edge into the correct pack pattern. A gear-driven reciprocating feeder with vacuum-assisted cup carton placers erects the case. The accurate count of cartons or non-cartoned product is pushed into the case. A series of stationary and mechanical plows close the case flaps, and once the flaps are positioned, a Nordson Hot Melt glue system glues close both ends of the case. The case is then discharged.
DIMENSIONS & FLOOR PLAN
TT-1300S features a compact overall footprint so you can rest assured it will fit your floor space.
TT-1300S is available with automatic product transfer, servo-driven collating devices, pre stacking case conveyors, tape and glue closing, and user-friendly HMI operator interface.
Built from welded tubular stainless steel with hinged cover panels and safety electrical interlocks, TT-1300S is a powerful and efficient case packer that meets the highest standards with state-of-the-art simplicity.