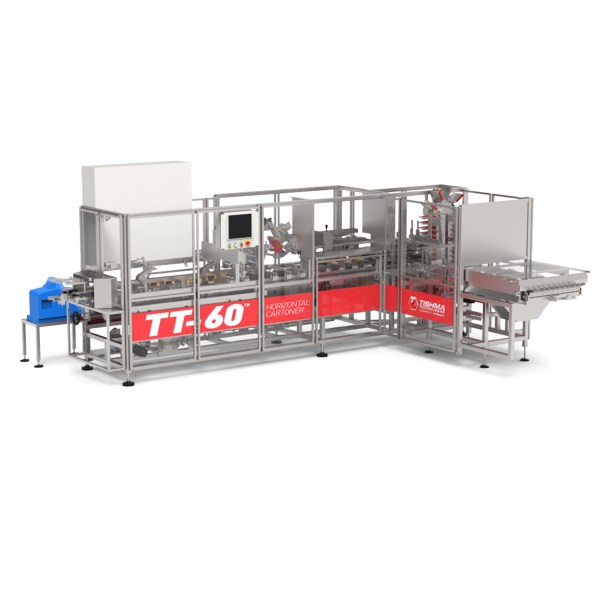 TT-60 Horizontal Cartoner
The Horizontal, Perfected.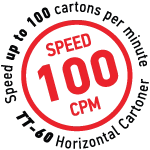 The TT-60 Horizontal Cartoner features stainless steel frames, powered carton magazines, rotary carton erectors, fixed size or adjustable conveyors, and PLC controls with self-diagnostics. A wide assortment of options include embossers, imprinters, leaflet placers, and servo-controlled product handling devices. The TT-60 Side Load Cartoning Machine can collate products and load them into a carton or a display pack at speeds up to 100 CPM. Applications include pouches, blister packs, carded items, and numerous others.
Download Brochure
TT-60 CARTON STYLES & PRODUCT APPLICATION
Blister Packs  ●  Carded Items  ●  Pouches  ●  Stick-Packs  ●  Frozen Food

---
CARTONER MACHINE FOR STICK PACKS
Designed and built for side-load cartoning of stick-packs in cartons. Perfect for the secondary packaging of single-portioned items like pharmaceutical / vitamin stick-packs, candy stick-packs, salt stick-packs, sugar stick-packs, coffee stick-packs and condiment stick-packs.
HORIZONTAL CARTONER FOR BLISTERS SIMULATION
The TT-60 Horizontal Cartoning Machine can collate blisters and load them into a carton, or a display pack at speeds up to 100 CPM. Different collation patterns allow you to save space within the carton by flipping every-other blister, so they interlock.
---
TECHNICAL SPECIFICATIONS
| | |
| --- | --- |
| TYPE | Side-Load Case Packer |
| DESIGN | Intermittent motion, small footprint, stainless steel construction, quick changeover, easy maintenance, right or left hand machine configuration |
| FILLING OPTIONS | Hand load, robotic loading, and customized collating infeed options. Can be integrated with wrappers, thermoformers, pouchmakers, etc. |
| CARTON CLOSING OPTIONS | Hot or cold glue, all tuck style cartons, all custom shaped configurations & closing |
| VERSATILITY | Multiple size, product, and carton style capability such as standard carton sizes, display packs, and numerous others |
| SPEED | Up to 100 cartons per minute |
| DURABILITY | Designed for 24/7 operation |
| SAFETY | Machine guarding with hinged stainless steel framed polycarbonate panels with latches and interlock safety switches |
| OPTIONS | Leaflet feeders, laser or inkjet printers, labelers, tamper evidence, embossers, washdown construction, imperial or metric construction |