RAPTOR – AUTOMATIC BUNDLER MACHINES
BANDING, STRAPPING, AND SHRINK WRAPPING MACHINE SOLUTIONS FOR CARTONS, TRAYS, BOTTLES, AND MORE

The Raptor and Raptor-R series bundler machines are total solutions for all your shrink wrapping, banding, and strapping packaging needs. These automatic packaging machines offer amazing benefits such as easy integration into existing packaging lines and quick bundling of most standard products. This automatic bundle packing machine can be used with cartons, bottles, and trays, and can be found in two different models – robotic and non-robotic.
ADDITIONAL INFORMATION
CUSTOMIZED FOR LABELING, SERIALIZATION AND DATA MANAGEMENT
---
The benefits and key features of these bundling machines are collation and aggregation with almost all banding and wrapping styles, as well as a compact and efficient footprint. Machines can be easily integrated into existing packaging lines, without space sacrifice. Raptor and Raptor-R are capable of accepting high in-feed speeds. These shrink wrapping and bundling machines are the perfect solutions for quick and safe product strapping and packaging.

INTEGRATIONS
AUTOMATIC CASE PACKER
The Raptor bundling machines can be seamlessly integrated into our automated case packers. Whether up-stream or down-stream, the Raptor can handle bundling of incoming products or complete cases.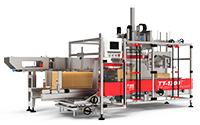 BENEFITS
---
COLLATE OPTIONS
Collate and aggregate with various banding and wrapping styles

PRINT OPTIONS
Labelling, Serialization and Data Management are available

EASY INTEGRATION
Easily integrate into existing packaging lines

COMPACT FOOTPRINT
Optimize your floor space with a compact and efficient machine footprint
SAVE TIME. GET A QUOTE NOW!