HORIZONTAL CARTONER FOR MICROWAVE BACON
The TT-600 horizontal cartoner for microwave bacon is a continuous motion Side Load Cartoner that can reach speeds up to 50 cartons per minute. Designed and built for cartoning of microwave-ready pouches, it is perfect for secondary packaging of microwave bacon, microwave-ready meals, frozen vegetables, and other instant food products.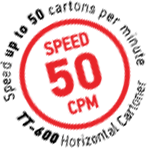 PRODUCT CARTONING PROCESS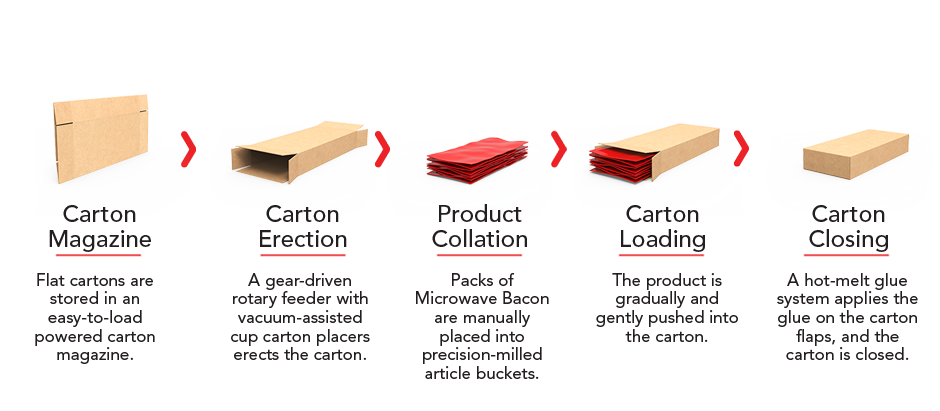 TECHNICAL
SPECIFICATION
| | |
| --- | --- |
| TYPE | Side Load Cartoner |
| SPEED | Up to 50 CPM |
| PRODUCT INFEED | Stainless Steel Article Buckets |
| CARTON FILLING | Product Pushers and Product Confiners |
| VERIFICATION | Open Flaps Detection and Rejection Station |
| CARTON CLOSING | Nordson Hot-Melt Glue System |
| CONTROLS | Allen Bradley PLC and components |
TT-600 SIDE LOAD CARTONER
The TT-600 Horizontal Cartoner supports multiple carton and product sizes and features a quick and easy servo-assisted change-over. The packs of Microwave Bacon are manually placed into the precision-milled article buckets. Flat Cartons are stored in the 48″ powered carton magazine with a nickel-plated tubular steel frame, twin chain feed with shaft mounted pressure plate, and 1/8 H.P. drive motor with air clutch. Upon the product's detection, a high-speed gear-driven rotary carton feeder with vacuum cup carton placers erects the carton. The product is gradually and gently pushed into the carton while an overhead confiner ensures no jamming during loading. A Nordson ProBlue 7 gun glue system applies glue on carton flaps. The carton flaps are closed using a series of stationary and mechanical plows, and then the carton is discharged.
DIMENSIONS & FLOOR PLAN
TT-600 features an overall compact footprint, so you can rest assured it will fit your floor space.
Reliable and portable with simple operation and a user-friendly interface, TT-600 will be up and running in no time.
Built from welded tubular stainless steel with hinged cover panels and safety electrical interlocks, TT-600 is a powerful and efficient case packer that meets the highest standards with state-of-the-art simplicity.