Cartoner Machine For Pharmaceutical Vials
This TT-50 pharmaceutical vials cartoner is an intermittent motion vertical cartoner featuring a flat blank carton erector, pre-assembled flat divider erecting station, and a robotic vial pick-and-place system. This packaging machine is designed and built for packaging of pharmaceutical vials, ampoules and similar container into a flat blank carton with a divider, and can reach speeds up to 300 vials per minute.
Vial Cartoning Process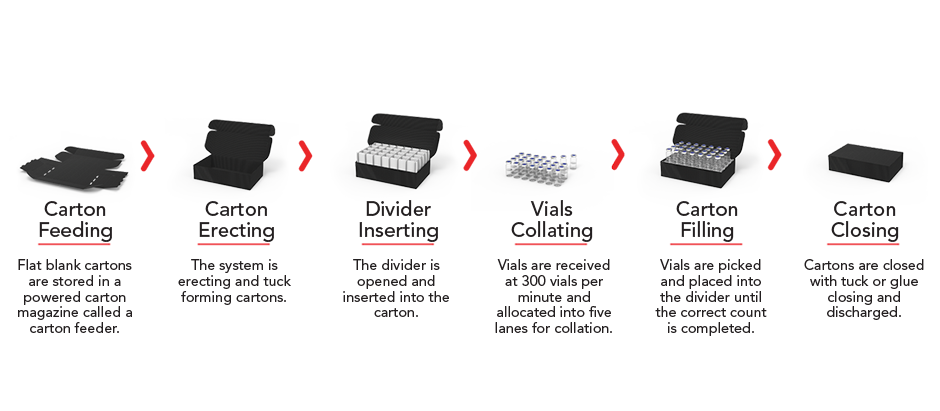 TECHNICAL
SPECIFICATION
| | |
| --- | --- |
| TYPE | Top Load Vertical Cartoner |
| MODE | Intermittent Motion |
| SPEED | Variable to 300 VPM |
| CARTON MAGAZINE | 30" carton magazine with twin chain feed with shaft mounted pressure plate |
| CARTON FORMER | Reciprocating, positive plunging carton forming system |
| DIVIDER MAGAZINE | Fanuc Robotic Pick And Place System |
| CARTON CLOSING | Tuck Carton Closing |
| FRAME | Welded tubular stainless steel of open, sanitary design |
| DRIVE | Servo driven with line shaft |
| CONTROLS | Allen Bradley PLC and components |
TT-50 Top-Load Cartoner
TT-50 Pharmaceutical Vials Cartoner features quick and easy changeover, and it can handle three different vial sizes, all at the same speed. Round vials that have been stoppered, sealed, and inspected travel upright on a conveyor into the lane placement system. The placement system appropriates the vials into ten lanes. Vials, now in ten filled and fully populated lanes, advance into the pick and place station of the cartoner. Flat blank, Britestock cartons are fully formed and advanced to the divider loading station. A divider is picked from the divider magazine, placed into the formed carton, opened and locked into the correct position within the carton, and prepared to receive the vials. Vials (100 in a 10×10 pattern) are picked, positioned, and placed into the divider of the carton by a Fanuc Robot, and then the filled carton is tucked, closed, and discharged.
Floorplan
TT-50 features an overall compact footprint, so you can rest assured it will fit your floor space.
TT-50 features washdown construction which allows for machine cleaning and maintenance according to all sanitary standards in the Pharmaceutical Industry.
TT-50 is a powerful and efficient cartoner that meets the highest standards with state-of-the-art simplicity, built from welded tubular stainless steel with hinged cover panels and safety electrical interlocks.


Integrate the TT-50 Cartoner With…