Vertical Cartoner for Pharmaceutical Bottles
The TT-50 for pharma bottles and dosing droppers is a continuous motion top load cartoner that can reach speeds up to 60 cartons per minute. Designed and built for automatic cartoning of dosing droppers and bottles, it is perfect for packaging bottles containing cannabis and CBD oil or tinctures, eye drops, ear drops, nose drops, and similar pharmaceutical products.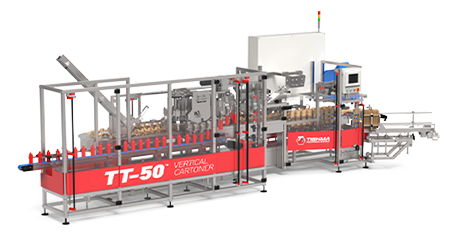 Bottle and Leaflet Insert Cartoning Process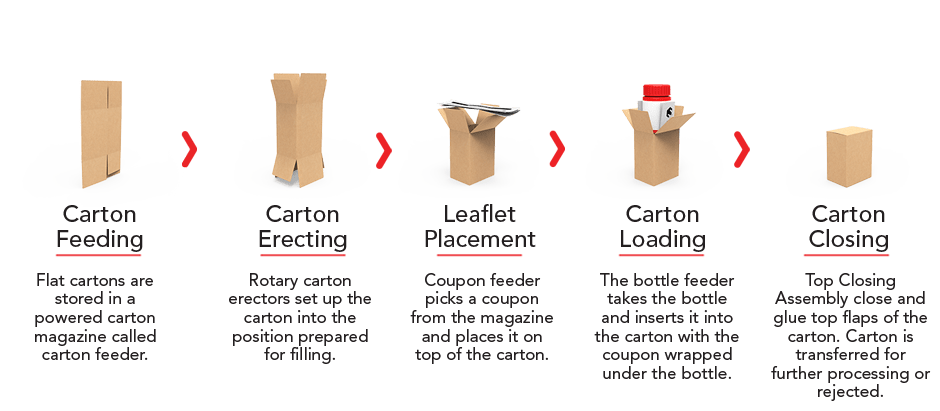 TT-50 Cartoner Technical Specifications
| | |
| --- | --- |
| TYPE | Top Load Cartoner |
| MODE | Continuous Motion |
| CARTON FEED | 1.875, 2.5, 3.75, and 5.0 inches |
| CASE FEED | Variable to 1,000 CPM, depending upon application |
| CARTON LOADING | 448+'' powered carton magazine with rotary erector; dual micro-pump vacuum system |
| CARTON CLOSING | Straight or reverse tuck, hot melt glue, tooling for special carton styles |
| TOOLING | Patented volumetric cup fillers or computer scale interface |
| CONTROLS | Welded tubular stainless steel; hinged Lexan cover panels with stainless steel frames and safety electrical interlocks |
| SAFETY | Servo driven with line shaft |
| OPTIONS | Allen Bradley PLC or to customer spec; Allen Bradley components, alphanumeric self-diagnostics |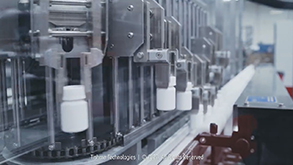 TT-50 Top-Load Cartoner
The TT-50 cartoner machine for pharma bottles top-load cartoning reaches speeds up to 60 CPM (cartons per minute). Cartons are loaded into the carton magazine by the operator. The rotary feeder picks the carton from the magazine and delivers it into the carton track. Carton travels with carton track and comes to the bottom closing assembly, where the system of plows closes and glues bottom flaps of the carton. The carton with closed bottom comes under the leaflet feeder; the leaflet feeder picks the leaflet from the magazine and places it on top of the carton. The next station is the bottle feeder station. The bottle feeder takes the bottle from the Morrison Timing Screw and inserts it into the carton with the leaflet wrapped under the bottle. The top closing assembly closes and glues the top flaps of the carton with the Nordson Glue System. The closed carton is laid down onto the discharge conveyor, transferred for further processing, or is rejected in the reject chute.
The TT-50 features a NEMA 12 electrical control box, stainless steel construction, and a simple open design, allowing easy washdown of all exposed surfaces.
Floorplan
TT-50 features an overall compact footprint, so you can rest assured it will fit your floor space.
Reliable and portable with simple operation and a user-friendly interface, TT-50 will be up and running in no time.
TT-50 is a powerful and efficient cartoner that meets the highest standards with state-of-the-art simplicity, built from welded tubular stainless steel with hinged cover panels and safety electrical interlocks.