HIGH-SPEED CHEWABLE CANDY VERTICAL CARTONER
The TT-400 is a continuous motion high-speed top load cartoner that can reach speeds of 600+ cartons per minute. Designed and built for cartoning of free-flowing candy products, it is perfect for primary and secondary packaging of chewing gum, hard candy, dried fruits, and similar products.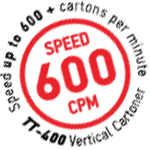 PRODUCT CARTONING PROCESS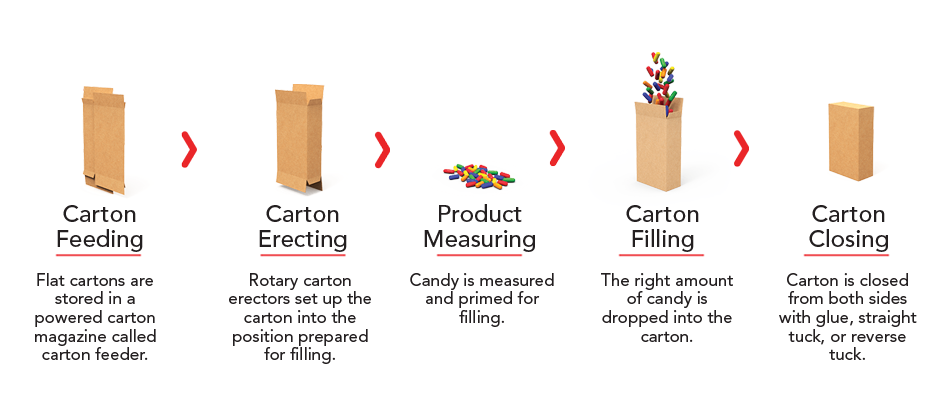 TECHNICAL
SPECIFICATION
| | |
| --- | --- |
| TYPE | Top Load Cartoner |
| MODE | Continuous Motion |
| SPEED | 600-750 Cartons Per Minute |
| PRODUCT INFEED | Volumetric Filler and UltraTrack Handling System |
| DIMENSIONS | 204″ x 76″ x 68″ |
| CONTROLS | Allen Bradley PLC |
| DRIVE | Allen Bradley Servo Motor, Line Shaft |
| POWER REQUIREMENTS | 480 V, 3 Phase, 60Hz |
| AIR REQUIREMENTS | 12.0 CFM @ 60 psi |
| CARTON STYLE | Theater Box, Standard Glue-Sealed Carton |
TT-400 HIGH-SPEED TOP LOAD CARTONER
This high-speed top load cartoner supports multiple carton sizes and features easy changeover. The TT-400 features a Patented UltraTrack high-speed volumetric cup filler that provides no-carton/no-product, no-product/no-carton functionality. Stainless steel construction and simple, open design allow for easy washdown of all exposed surfaces.
DIMENSIONS & FLOOR PLAN
TT-400 features an overall compact footprint, so you can rest assured it will fit your floor space.
Reliable and portable with simple operation and a user-friendly interface, TT-400 will be up and running in no time.
TT-400 is a powerful and efficient cartoner that meets the highest standards with state-of-the-art simplicity, built from welded tubular stainless steel with hinged cover panels and safety electrical interlocks.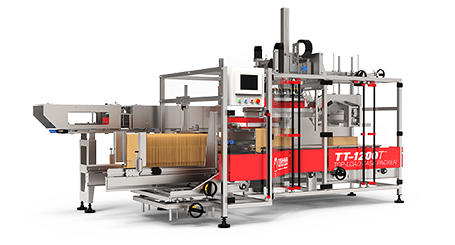 CASE PACKERS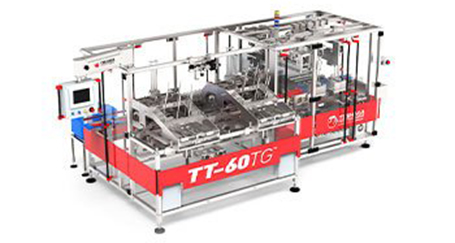 Tray packers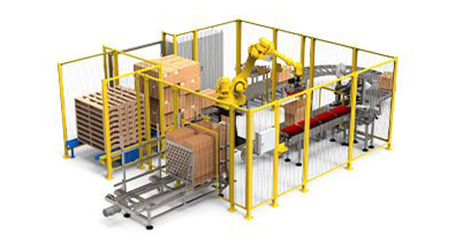 palletizers