TOP LOAD ROBOTIC CASE PACKER AND PALLETIZER FOR FIFTH PANEL CARTONS
The TT-1400RLP is a Robotic Top Load Case Packer and Palletizer that can reach speeds up to 8 cases per minute. The Yaskawa Motoman robotic arm with a custom designed EOAT is utilized for case loading and palletizing operations, which makes this solution ideal for a business that values flexibility and compactness over speed. Designed and built for case packing of five-panel cartons, this particular model can be useful in any industry that utilizes this packaging format.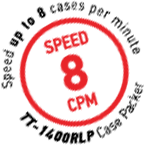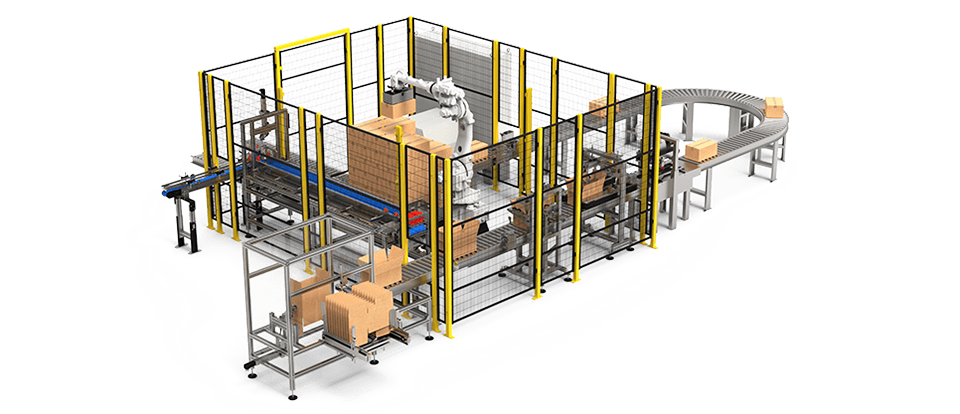 PRODUCT CASE PACKING PROCESS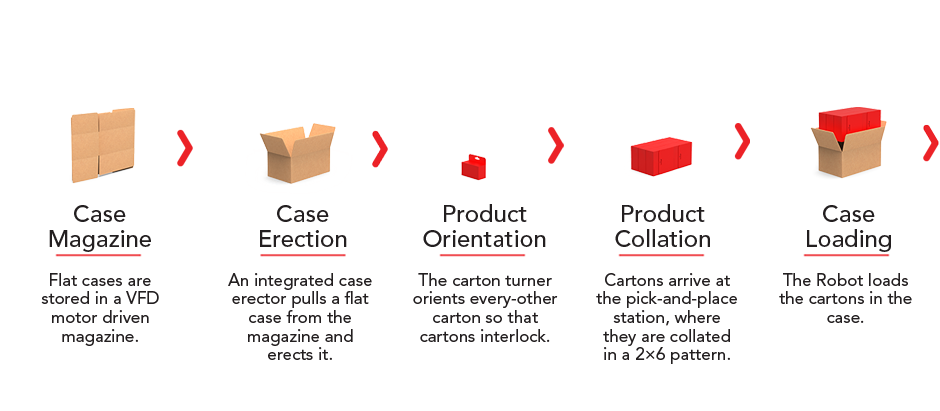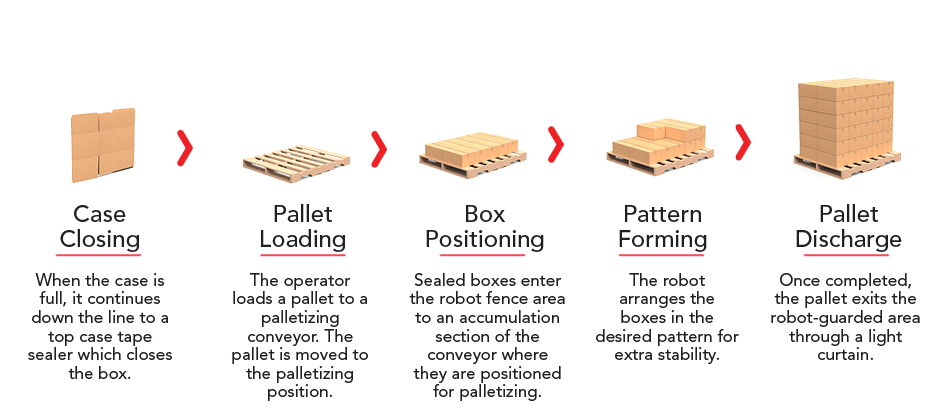 TECHNICAL
SPECIFICATION
| | |
| --- | --- |
| TYPE | Robotic Top Load Case Packer and Palletizer |
| SPEED | Up to 8 CPM |
| CASE LOADING | Robotic Pick-and-Place System |
| PRODUCT ORIENTATION | Servo-Driven Carton Turner |
| CASE CLOSING | Tape Closing System |
| SAFETY | Light Curtain |
TT-1400RLP SEQUENCE OF OPERATIONS
Previously processed five-panel cartons are delivered on an infeed conveyor. Carton turner orients every-other carton so that cartons interlock to save space in the box. Cartons arrive at the pick-and-place station, where they are collated in a 2×6 pattern. While the cartons are being prepared for the pick and place operation, an integrated case erector pulls an RSC case from a VFD motor-driven magazine and erects it. The corrugated case is taped on the bottom and forwarded to the case loading station, where the Robot loads the cartons in the case. When the case is full, it exits the robot fence guarded area and continues down the line to a top case tape sealer. After the box is tape-sealed, it enters the robot fence area to an accumulation section of the conveyor. In this area, the boxes are positioned ready to be palletized. The Robot lifts the box and places the box on the pallet. The robot's logic is programmed to alternate between packing and palletizing to maintain optimized speed. Once completed, the pallet exits the Robot guarded area through a light curtain. The whole machine is safety-secured with door switches, light curtains, and fencing.
DIMENSIONS & FLOOR PLAN
TT-1400RLP features compact overall footprint so you can rest assured it will fit your floor space.
Reliable and portable with simple operation and user-friendly interface, TT-1400RLP will be up and running in no time.
TT-1400RLP is a powerful and efficient case packer/ palletizer that meets the highest standards with state-of-the-art simplicity.