WASHDOWN CASE PACKER MACHINE
FOR BACON CARTONS
The TT-1200 is an intermittent motion case packer that can reach speeds up to 9 cases per
minute. It is designed and built for case packing of bacon cartons in a 2×3
pattern in C-Flute RSC corrugated cardboard boxes. This case packaging machine features
a compact footprint that allows you to save on your floor space. At the same time, its
simplicity and ergonomic design will enable you to pack and prepare your products for
shipping and stacking quickly and efficiently. Washdown design guarantees that every
component can withstand the cleaning process according to food industry standards.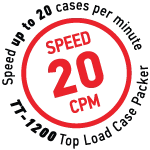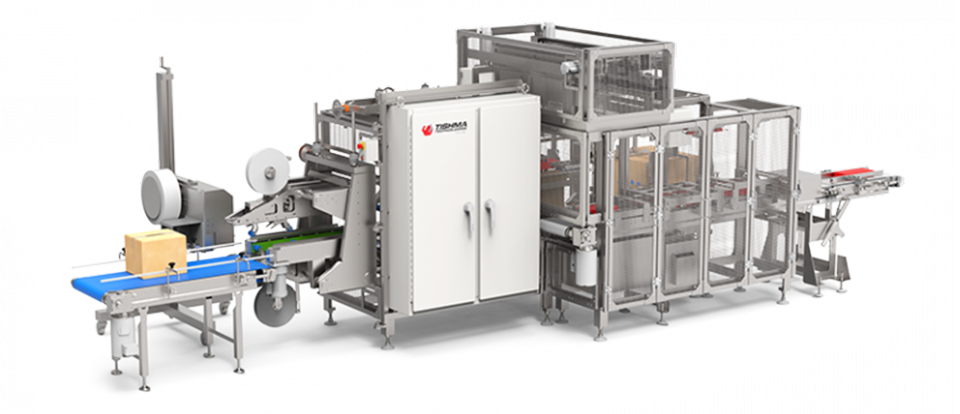 PRODUCT CASE PACKING PROCESS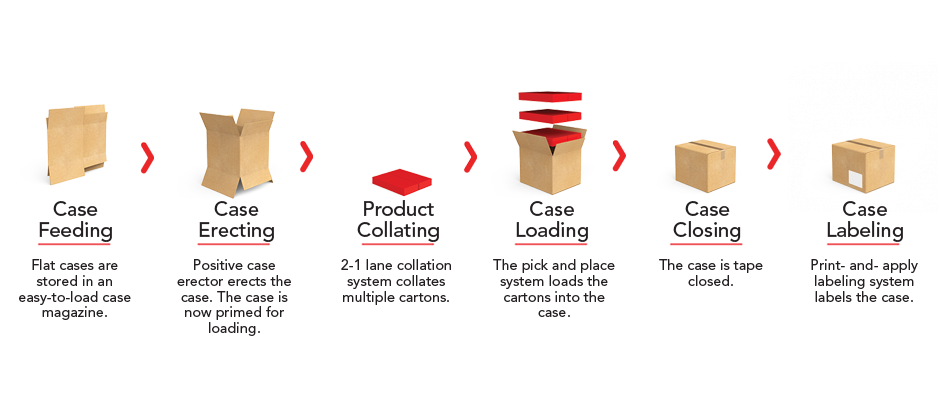 TECHNICAL
SPECIFICATION
| | |
| --- | --- |
| TYPE | Top Load Case Packer |
| SPEED | Up to 9 CPM |
| CASE SIZE | Length: 10.000", Width: 7.500", Depth: 12.500" |
| CASE FEEDING | A gear-driven reciprocating feeder with vacuum-assisted carton placers |
| CASE LOADING | Dual servo driven pick and place |
| CASE TRANSPORT | A heavy-duty, endless Stainless-Steel chain conveyor with one set of precision-milled Case Lugs. |
| CASE CLOSING | Tape Closing System |
| PRODUCT COLLATING | Single to Dual Lane Collation System |
| WASHDOWN DESIGN | NEMA 4X electrical control box, NEMA 4X wiring throughout. The rigid frame of seamless welded Solid Channel stainless steel. Open design for cleanliness and ease of access to components. Stainless steel or nickel-plated components Washdown-rated motors and pumps. |
| CONTROLS | Allen Bradley PLC/Drive |
| POWER REQUIREMENTS | 6.0 CFM @ 60psi, normal dry plant air. |
TT-1200T TOP LOAD CARTON CASE PACKER
The TT-1200T is a piece of case packing machinery featuring quick and easy servo-assisted change-over. Low case magazine heights allow for easy and fast loading. Filled and sealed cartons are discharged from the TT-600S Horizontal Cartoner with the long dimension leading. Packs then enter into the single-to-dual lane collation/loading station of the TT-1200T Top Load Case Packer. Cases are erected, the bottom of the cases are closed, and cases are advanced to the product loading station. Two Bacon cartons are loaded into the case (three times), forming a 2×3 pattern. The top flaps are tape sealed, the label is applied, and the case is discharged onto the Palletizer infeed conveyor.
DIMENSIONS & FLOOR PLAN
TT-1200T features an overall compact footprint, so you can rest assured it will fit your floor space. Reliable and portable with simple operation and a user-friendly interface, TT-1200T will be up and running in no time, providing you with the best case-packing automation. Built from welded solid stainless steel with hinged cover panels and safety electrical interlocks, TT-1200-T is a powerful and efficient case packer that meets the highest standards with state-of-the-art simplicity.