CARTONER MACHINE FOR STICK PACKS
The TT-60 cartoner machine for stick packs is an intermittent motion horizontal cartoner that accommodates 8-40 count stick pouches and packs them at speeds up to 100 CPM. It is designed and built for the side-load cartoning of stick packs in cartons. It is perfect for the secondary packaging of single-portioned products like pharmaceutical stick packs, candy stick packs, vitamin stick packs, salt stick packs, sugar stick packs, coffee stick packs, condiment stick packs, etc.
A wide assortment of options include embossers, imprinters, leaflet placers, and servo-controlled product handling devices.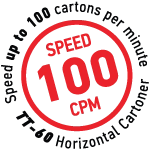 PRODUCT CARTONING PROCESS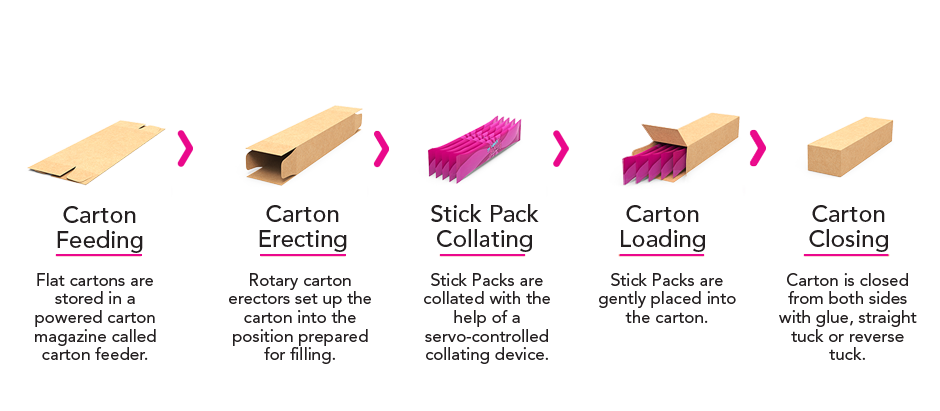 PRODUCT CARTONING VIDEO

TECHNICAL
SPECIFICATION
| | |
| --- | --- |
| TYPE | Side Load Cartoner |
| DESIGN | Intermittent motion, small footprint, stainless steel construction, quick changeover, easy maintenance, right or left hand machine configuration |
| FILLING OPTIONS | Hand load, robotic loading, and customized collating infeed options. Can be integrated with wrappers, thermoformers, pouchmakers, etc. |
| CARTON CLOSING OPTIONS | Hot or cold glue, all tuck style cartons, all custom shaped configurations & closing |
| VERSATILITY | Multiple size, product, and carton style capability such as standard carton sizes, display packs, and numerous others |
| SPEED | Up to 100 cartons per minute |
| DURABILITY | Designed for 24/7 operation |
| SAFETY | Machine guarding with hinged stainless steel framed polycarbonate panels with latches and interlock safety switches |
| OPTIONS | Leaflet feeders, laser or inkjet printers, labelers, tamper evidence, embossers, washdown construction, imperial or metric construction |
TT-60 HORIZONTAL CARTONER
The TT-60 cartoner machine for stick packs side-load cartoner reaches speeds up to 100 CPM and features a quick and easy servo-assisted change-over. The flat cartons are stored in a powered carton magazine with two spindle rotary erector and a dual micro-pump vacuum system that erects the carton and places it into the carton pocket. TT-60 receives stick pouches from a multi-lane stick pouch machine. Stick packs are counted, collated in the required amount, and then released into article buckets from where they are gently pushed sideways into a carton. When filled, the carton goes through the sealing station, where it is sealed. The TT-60 features stainless steel construction and a simple open design, which allow for easy washdown of all exposed surfaces.
DIMENSIONS & FLOOR PLAN
TT-60 features an overall compact footprint, so you can rest assured it will fit your floor space.
TT-60 is available with hand load, robotic loading, and customized collating infeed options. It can be integrated with wrappers, thermoformers, pouch makers, etc.
Built from welded tubular stainless steel with hinged cover panels and safety electrical interlocks, TT-60 is a powerful and efficient cartoner that meets the highest standards with state-of-the-art simplicity.