VERTICAL CARTONER FOR DOSING DROPPERS
The TT-50 Dosing Droppers is a continuous motion top load cartoner that can reach speeds up to 140 cartons per minute. Designed and built for manual cartoning of dosing droppers and bottles, it is perfect for packaging bottles containing cannabis and CBD oil or tinctures, eye drops, ear drops, nose drops, and similar pharmaceutical products.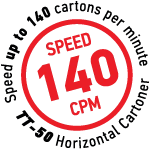 Dosing Dropper Cartoning Process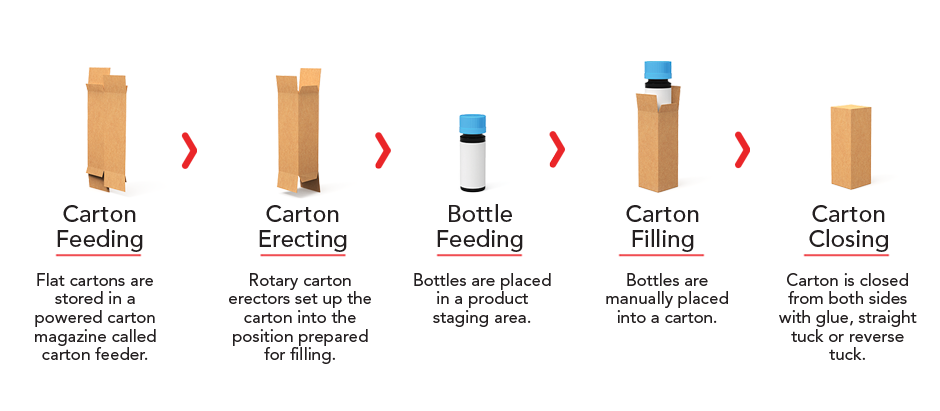 TECHNICAL
SPECIFICATION
| | |
| --- | --- |
| SPEED | Speeds up to 140 Cartons Per Minute |
| MAGAZINE | 336+'' powered magazine with 4 spindle rotary carton feeder |
| ERGONOMIC DESIGN | Optimum Accessibility and Ergonomic carton loading Height |
| CHANGEOVER | Quick and Easy Servo-Assisted Changeover |
| SUPERIOR PRODUCT HANDLING | Positive Product Handling & Placement |
| REJECT SYSTEM | Open flat detection and rejection system |
TT-50 TOP LOAD CARTONER
Hand load models of the TT-50 Dosing Droppers cartoner come in 3 different lengths, depending on your packaging needs. Besides manual carton loading, TT-50 can also feature automatic bottle loading or a count/weigh scale interface. TT-50 supports various carton styles, including tuck, glue, header, gable, flip-top, and hex-style. This Cartoner is also available with leaflet inserters, integrated printers, labelers, and a reject station. Stainless steel construction and simple open design allow for easy washdown of all exposed surfaces.
DIMENSIONS & FLOOR PLAN
TT-50 features an overall compact footprint, so you can rest assured it will fit your floor space.
Reliable and portable with simple operation and a user-friendly interface, TT-50 will be up and running in no time.
TT-50 is a powerful and efficient cartoner that meets the highest standards with state-of-the-art simplicity, built from welded tubular stainless steel with hinged cover panels and safety electrical interlocks.